Recently, I flew on Qatar Airways in business class from Cairo to Los Angeles. I was excited to see how Qatar Airways would handle the 'new normal' this time. Cairo airport can be quite chaotic on its best days, and so it was on my day of travel. We had arrived about three hours early – giving me plenty of time (so I thought).
Check-In experience
Cairo airport presents an additional challenge compared to other international airports  – you have to clear two additional security checks before being able to reach the check-in counter. While the first check to enter the building was casual and quick, the second check (including all baggage) had massive crowds. While the line moved swiftly, it took a good hour to go through that 'initial check.'
We realized that this wasn't just Qatar Airways departing – in fact, every major Gulf airline had one or more flights planned – all widebodies and all from 'our' terminal. Emirates even seemed to fill up an A380 while Saudia had a flight to each of their hub just a few minutes apart. Talk about the recovery of air traffic!
There are no Priority lines for any of the security checks.
Check-in was friendly with a VERY knowledgeable and friendly agent. It still took a solid 20 minutes given all the paperwork required for this trip.
After check-in, we still had to clear immigration (which didn't take too long) and another security check (this time without the luggage) which also came without a priority line.
We finally made our way to the lounge Qatar Airways uses (also a Priority Pass lounge). The lounge had a number of hot food items and plenty of drinks available. It must have just gone through a recent remodel – it looked sparkling new and just had a few passengers in it.
See how you can fly Business Class and stay at 5 Star hotels for very little. Get the best airfares and hotel rates (including mistake fares and mistake hotel rates) in real-time with Mighty Travels Premium, now with a 25% discount. 
Cairo to Doha flight experience
We walked to the gate early, and to our surprise, boarding was about to start (almost an hour before the flight). Qatar Airways uses a mix of planes for the short flight from Cairo to Doha. While it was planned to be on a 777, we banked on the fact that most 777s have been upgraded to QSuites. Sadly, that wasn't the case for this airplane, and the interior was certainly more dated.
Despite the early start of the boarding, it would take us much longer than our planned departure time to get going. This was most likely due to late passengers – given the lengthy check-in & security process, not a surprise.
The service and catering for this flight was lovely and very much the same same as what we would expect in any Qatar Business Class. Frankly, for a 2.5-hour flight, the QSuite experience would have been somewhat aborted anyways.
Arriving in Doha was special since we got the first parking spot away from the terminal. The bus ride itself resembled the flight time of many Gulf flights – easily 20 minutes from the parking position to the terminal drop-off.
With just a few minutes to spare, we had no chance to make our way to the excellent Al Mourjan Business Class lounge. Instead, we walked through yet another security check (this time it was empty and supper quick) towards our gate for the flight to Los Angeles.
See how you can fly Business Class and stay at 5 Star hotels for very little. Get the best airfares and hotel rates (include mistake fares and mistake hotel rates) in real-time with Mighty Travels Premium.
Doha to Los Angeles flight experience
Qatar Airways QSuites on an A350 seem a bit smaller than their cousins on a 777 airplane – this might be entirely subjective but the cabin seems to be a few inches smaller (in width), and the QSuites seem a bit shorter (in length).
The suites come in a 1-2-1 configuration. About half the seats face forward, and the other face backward. The two middle seats come in an alternate configuration – one row will have a larger divider (for maximum privacy), and the next row will have a minimal divider – enabling a joined bed area (for families and couples traveling together).
Although we booked these tickets together, we were not able to select seats in the middle before the flight. We initially settled into our personal suites on the right side of the plane and asked the flight attendants a joint suite would be available. They promised to look into it, but this plane would nearly be 100% full on our way to the US.
Boarding went slowly, and we stayed parked a good hour past our planned departure time. Luckily, however, our planned flight time was just above 14 hours, and we would still be projected to arrive early in Los Angeles.
We had a minimal taxi wait and rolled off into the horizon at 2.45 AM local time. I was expecting that most passengers would go to sleep right away, but this wasn't' the case – about half the Business Class cabin was up for a late supper. Amazingly, the flight attendants had negotiated with two other passengers to have us move into their seats past takeoff. We instructed to crew to add the mattress sheet right away and 'set up the bed.'
This isn't a Singapore Airlines First Class A380 (with their full-size mattress), but still, with the additional soft leather top, it resembled a full bed optically. The bed indeed seems really wide (think a large Queen size), but the length is constraint by the 'foot cubby' of the other passengers. In fact, to stretch out at 6'4, I had to move my feet all the way into the small 'foot cubby.' That's absolutely fine for a bit but gets annoying when you spend 14 hours in sleep configuration (which is what I did, of course).
I went for a small nightcap and saved the dinner items for later (taking the risk that it may sell out). You do have the option to reserve items before you go to sleep – though I wasn't sure yet what I wanted. The massive TV screen and the provided noise-canceling headphones make it almost a cinematic experience.
I was still able to get 9 hours of quality sleep without much interruption as we made our way through the 'Arctic waters.' This was an amazingly quiet flight – the cabin itself but also there was basically no turbulence the entire flight. The A350 is also a very quiet plane and there was no engine or AC noise. I was certainly in 'heaven'.
During times I used the one-hour free complimentary WiFi which was rather stable and had speeds of up to 2Mbit. That was enough to read emails, but it is too slow for any serious work.
Once awaken we did enjoy the catering. We tried to have a bite at every single dish that was on offer (and it was a long menu!). It was good but not as exciting as I'd hoped. Maybe it was just the course selection? It was very edible and good but blander and less refined compared to what I remember.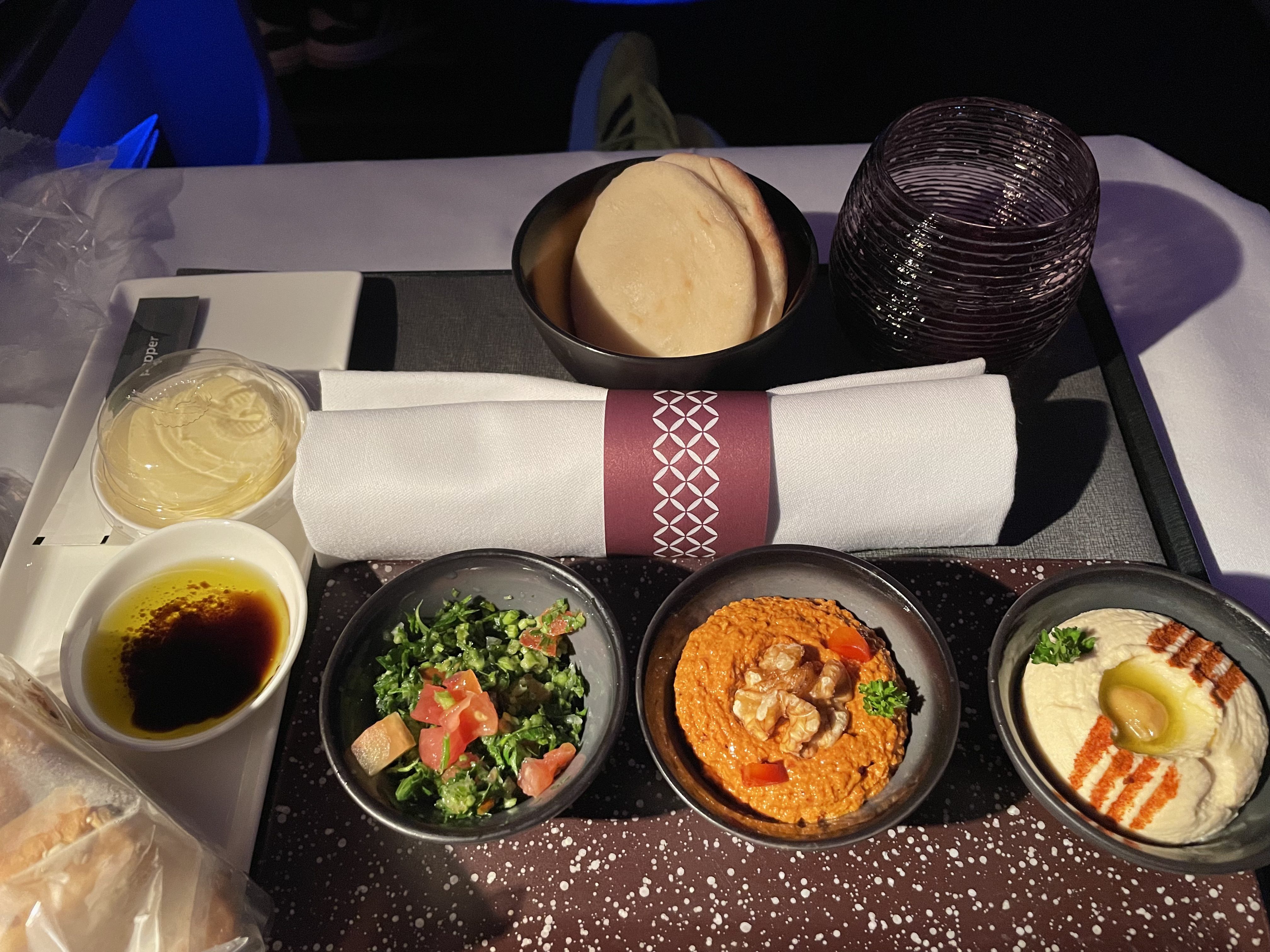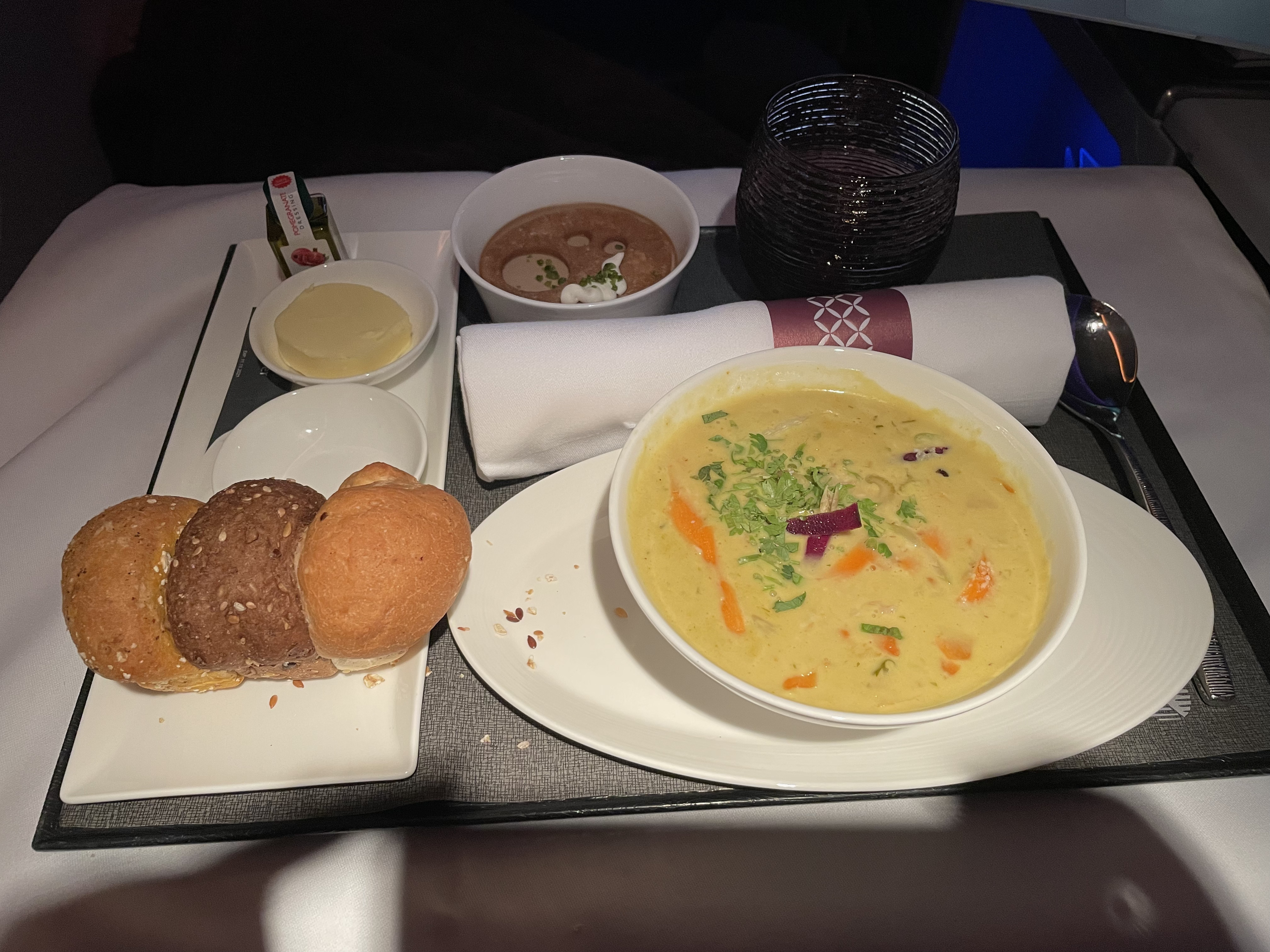 In summary
I felt the 15 hours of QSuites were too short, and I would have happily spent an additional 12 hours being treated like royalty by Qatar Airways staff. My only point of criticism is the restricted length of the QSuites seat (for anyone over 6 feet) that makes stretching out a bit of a challenge. I also wasn't happy with the airport experience in Cairo (something surely outside of Qatar Airways control).
Almost everything that is under Qatar Airways' control turns out to be near perfect, the modern airplane, the almost perfect QSuite experience, the very good catering (both drinks and food), the great lounge experience, and the extraordinarily friendly staff.
I am already looking forward to my next QSuites flight.
This article is sponsored by Mighty Travels Premium.
See how you can fly Business Class and stay at 5 Star hotels for very little. Get the best airfares and hotel rates (including mistake fares and mistake hotel rates) in real-time with Mighty Travels Premium.